Where are the best places to get married in Japan? That's a tough question! Japan is a country rich in culture, art and natural beauty. Anyone thinking of getting married here is going to be spoilt for choice. This is simply because there are so many places to choose from. It can be hard to know where to start, or even how!
Not everyone who wants to get married here wants to do so in a shrine. Therefore, based on our experience helping countless non-Japanese say "I do" here, we have put together a short list of our five best places to get married in Japan!
In short, our top places to get married in Japan are:
Fuji View, Yamanashi
Kyo-Machiya, Kyoto
Yoshiki-en Garden, Nara
Various, Hakuba
Tantoku-en, Kawagoe
Please note: We did not rank this list in order, from one to five. It would be impossible to put these in any kind of order. Each is different, and well worth topping anyone's list of the best places to say "I do" in Japan.
Fuji View, Yamanashi
First up in our five best places to get married in Japan is none other than Mount Fuji. No, not on the mountain itself, but one of the lakes in Yamanashi prefecture with killer views of the conical mount: Lakes Kawaguchi and Yamanaka.
UNESCO recently bestowed Mt. Fuji with the status of world heritage site. Whether you agree with this or not, there is no denying just how awe inspiringly beautiful the mountain is. (I have yet to meet anyone who was not enamored with this site.)
It is therefore not surprising that this is one of the most requested backdrops for weddings. And while we have not yet performed any weddings out there (we have only been in business one year) we have quite a few planned for the coming year, and can't wait to get out there!
Where Do You Have the Ceremony?
At the foot of the mountain with clear, unhindered Fuji views, lie the two lakes: Kawaguchi-ko and Yamanaka-ko. They both offer something slightly different.
Kawaguchi-ko is quite a chic area, with a picturesque town around the lake. Yamanaka-ko, on the other hand, has more of a rustic feel. Furthermore, at Yamanaka-ko it is possible to have a ceremony anywhere on the lakeside, within inches of the water's edge.
As well as at the many lakeside parks and beaches, there are several hotels and restaurants in both areas. These are able to host wedding and parties, ranging from very pricy down to very reasonable, and possibly cheap.
It is quite easy to hold a wedding ceremony besides Yamanaka-ko, but a little more difficult to get the necessary permits for Kawaguchi-ko, making this the more expensive of the two.
Elopement or Wedding?
Our recommendations:
if you want to elope, choose a lakeside spot, either right at the water's edge or an adjacent park.
if you want a full wedding, choose a hotel or restaurant, many of which will have killer mountain views
Fuji View: Summary
Cost: ¥ ~ ¥¥¥
Best time of year: Spring and Autumn
Number of guests: Up to 15
Privacy: No, but this depends on the exact location of the ceremony
Preparation room: No – this needs to be arranged separately
Catering: Yes, this can be arranged
Kyo-Machiya, Kyoto
Kyoto is a small city of just 1.5 million residents. Yet, in spite of this relatively small population, it managed to attract well over 55 million tourist in 2018. This number is set to continue to rise as the government pushes ahead with its goals of achieving a yearly total of 60 million tourists by 2030.
That so many tourists choose to come to Kyoto is little wonder; it is stunningly beautiful. And it offers unique, romantic backdrops for wedding photos and ceremonies. However, given that it attracts so many tourists, the crowds are getting unmanageable, and it is very hard for wedding couples to find that intimate, quiet spot to say "I do".
Difficult, but not impossible!
For anyone who wants to get married in the ancient Japanese capital, but who doesn't want to contend with bing crowded out of their own photographs, Kyo-Machiya has the answer!
What is Kyo-Machiya?
A Kyo-machiya is a traditional townhouse, the style and layout of which has remained pretty much the same for over 1,200 years. They have a very distinctive style and make up the backbone of the architecture in the city centre of Kyoto.
Walking into one is, in my opinion, akin to waking into a shrine: you are walking in to history. The construction and style of the house is unchanged since the Heian Period (794 – 1185). And for a history nerd like me that is as exciting as it gets!
As you walk into the Kyo-Machiya, away from the street, and towards the heart of the house, you leave the sights and sounds of the crowded city behind and find yourself in a quiet, romantic haven.
Many Kyo-Machiya have views of the river or a central garden/courtyard. Both can be the perfect location for many couples, who want a small intimate, ceremony in a traditional setting, away from the gawking eyes of strangers and passersby.
Wedding in a Kyo-Machiya
Hold the ceremony and have photo-shoot both inside and out, and finish the day with private dining. Any couple that gets married here will start their married life in arguably one of the most romantic settings Kyoto can offer.
And the best thing about these places? Once you have had your ceremony and photo-shoot, you spend the next night or two (or three!) maximizing the experience and "live like a local"! Having experienced these places on several occasions, I can attest for the lasting impression they will leave on you. I can't wait to go back and experience it again!
These architectural masterpieces are unfortunately in decline, and so it is possible that within the next several generations they will cease to exist. Because of this, many companies have sprung up in Kyoto with the sole purpose of maintaining these masterpieces of design for future generations.
Getting married in one will not only provide a unique link to Japanese history, but help to preserve them for generations to come.
Kio-Machiya: Summary
Cost: ¥¥¥¥
Best time of year: Anytime, but especially Spring and Autumn
Number of guests: Up to 5
Privacy: Yes
Preparation room: Yes
Catering: Yes, this can be arranged
Further Reading: Kyoto Kyo-Machiya Elopement
Yoshiki-en Garden, Nara
Up next in our list of five best places to get married in Japan, is this lovely venue in Nara. If you take the express train from Kyoto you can be there in 45 minutes. It is a beautiful little town whose significance lies in the fact that it was the capital of Japan long before Kyoto was. However, while Kyoto gets the lion's share of tourists and is always crowded, Nara is comparatively quiet. Though this is changing.
The City
It is probably second only to Kyoto as the richest collection of historical sites in Japan, and is home to some of the country's best temples, shrines and gardens.
Read more: https://www.insidekyoto.com/things-to-do-in-nara
At the centre of Nara sits the Park from where you can see and access many world heritage and national treasures.
While many of these sites are off limits to wedding couples, there is one, slightly-off-the-beaten-tourist-path Japanese Garden, called Yoshiki-en. And it is, in our opinion, perhaps the most beautiful example of a Japanese Garden you are likely to see, anywhere in the world!
The Garden
Because it is hidden behind a high wall and you have to scale a mini staircase to enter, it is almost like a secret garden. And, judging by the number of visitors in the park compared with the rest of Nara, it must be the city's best kept secret; making it undoubtedly one of the best places to get married in Japan. So don't go telling anyone!!
As with most Japanese gardens, it is well maintained throughout the year, but it really comes into its own in the spring and autumn months, which is when we highly recommend getting married here.
It is possible to hold a ceremony anywhere in the garden, but the most obvious location is the gorgeous Japanese Tea House, which can be hired for private events. This way, you will be ensured of some privacy and intimacy for you and your guest. The tea house can hold up to 40 people, though for the best experience, we recommend no more than 10.
The best thing about this venue, besides the natural and manicured beauty of the garden and the fact that it is slightly off-the-beaten-tourist-path, is that it is very cheap to hire out – less than ¥20,000 (US$185.60 as of the time of writing). This makes it very affordable to all couples, regardless of budget.
Extras
Because of its location, next to Nara Park, it is possible to have a photo-shoot both in the garden AND in the park, along with the deer and with many of the historical sites in frame. Furthermore, couples can hire a rickshaw for an added element of culture and romance!
Yoshikien: Summary
Cost: ¥¥
Best time of year: Spring and Autumn
Number of guests: Up to 40, but we recommend no more than 10
Privacy: Semi – private; while the tea room will be reserved solely for the wedding party, the garden will continue to be open to the public.
Preparation room: No, but staying in a nearby hotel will solve this problem
Catering: No, but it will be possible to reserve some tables at nearby restaurants
Further Reading: Elopement Ceremony in Nara
Hakuba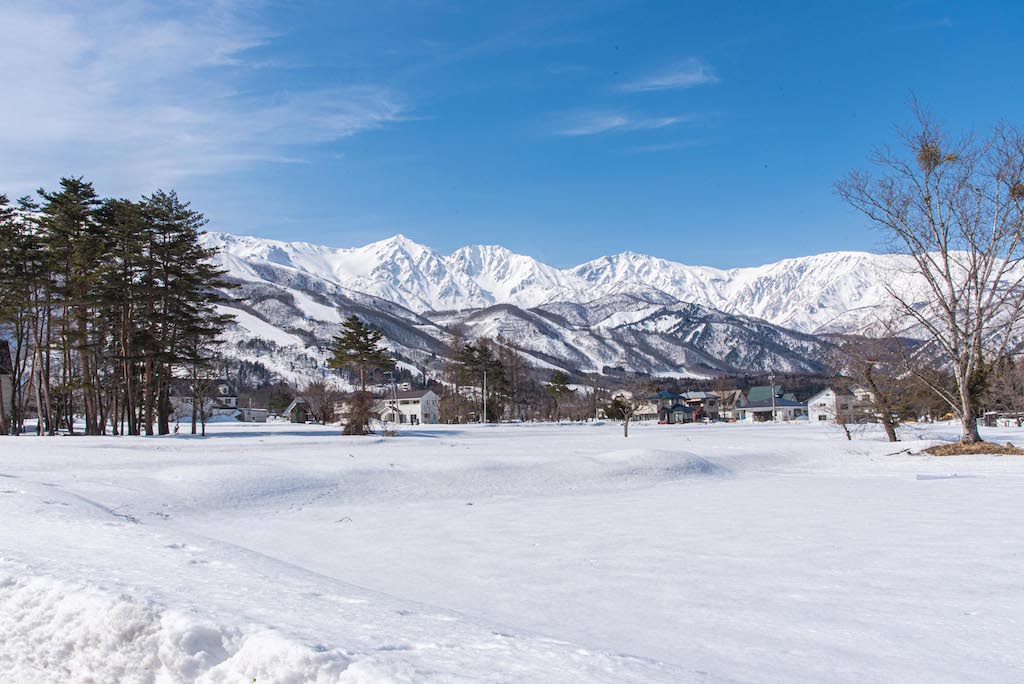 Of the five best places to get married in Japan, this one is perhaps a favorite! Hakuba is in the heart of the Nagano countryside, about 4 hours from Tokyo. It is a village in the Japanese App famous for its onsen and world class is resorts, which hosted some of the 1998 Winter Olympics events.
In the spring, summer and autumn months it is on the hiking trail. However, in the winter pristine powder snow turns into a winter wonderland, attracting skiers and snowboarders from around the world.
Where do you have the ceremony?
For lovers of the outdoors, there are several locations for ceremonies, either on the mountains or in the valleys, and they will make for awesome wedding photos!
There are wedding venues capable of holding up to 120 people and even a mountain top ski resort that can be rented out for ceremonies. Imagine the photos you can take from here!
For elopements and vow renewals for the couple and a few guests, during the spring, summer and autumn months it will be possible to find a mountain top spot. So get your hiking boots on!
If you love the outdoors and/or powder snow, this is surely the place for you!
Hakuba: Summary
Cost: ¥¥ ~ ¥¥¥¥
Best time of year: Winter, but honorable mentions to Spring and Autumn
Number of guests: Up to 5 ~ 120
Privacy: Yes
Preparation room: Depends on the ceremony spot
Catering: Yes, this can be arranged
Further Reading: Destination Wedding in Hakuba
Tantoku-en, Kawagoe
And finally, in our list of five best places to get married in Japan, we turn to Kawagoe.
Kawagoe is a small town in Saitama Prefecture, just 40 minutes north of Tokyo by express train. It is often referred to as "Little Edo" due to the Edo era architecture that is prevalent in the town. Because of this, it is a very popular destination for tourists.
However, as with all our venues, we strive to find those places off-the-beaten-tourist-path, and we think we have done that with a private house and garden in Kawagoe, called Tantoku-en.
Tentoku-en
The house has been in the same family for five generation, covering 150 years, and has been well maintained and cared for. The tea room overlooks a beautiful example of a Zen Garden, and can be enjoyed from a single seated position inside the house, or by wandering among the carefully placed plants, shrubs and rock formations.
As historical as the Kyo-Machiya of Kyoto but quite different. The house sits in a quiet residential area and offers complete intimacy and peace from the hustle and bustle of the town.
And, being a self-contained little venue, there are rooms on the second floor which can be used by the bride and groom for preparation.
Ceremony
One of the best things about a venue like this is that there is rain back-up. The majority of people who get married in Japan seem to opt for an outdoor ceremony, which brings with it nerves and anxiety about the weather, especially during rainy season!
Therefore, to have a venue with a gorgeous rain alternative makes things a whole lot less stressful for all involved. However, assuming the weather is good, the garden is the perfect location for a ceremony. It even has a little shrine making that the most likely place to say the "I dos".
Although the garden is not as big as public gardens can be, it is still large enough to provide a great variety of photos. On top of that, the venue staff are trained in that quintessential Japanese cultural experience – the tea ceremony. It will make a great addition to the proceedings and add variety to the photographs.
Extras
Following the ceremony, couples can either have dinner brought in from a caterer in the town, or we can take them to a restaurant nearby. This will also be good opportunity to see and photograph the town, and experience the many tourist delights.
Tantoku-en: Summary
Cost: ¥ ~ ¥¥
Best time of year: Spring, Summer and Autumn
Number of guests: Up to 8
Privacy: Yes
Catering: Yes, this can be arranged
If you are interested in planning your own unique wedding, elopement or vow renewal in any of these places, or others, contact us today and let's start talking!
Let's make your vision a reality!